Annual General Meeting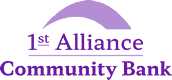 Dear Member,
The Annual General meeting will take place on Monday 27th February 2023 6pm till 7.30pm in The PLAYZ at Unit A,
Pennyburn Local Centre,  Kilwinning KA13 6TA.
If you are interested in becoming a Director, please ask for a nomination form to be sent to you.
We hope to see you at the meeting.
Carol Gillon
Chief Executive
1st Alliance Community Bank
FSA Number: 228296 1st Alliance (Ayrshire) Credit Union
147 Main Street
Kilwinning
KA13 6EQ
Tel: 01294 557123
www.allianceayrshire.co.uk
---